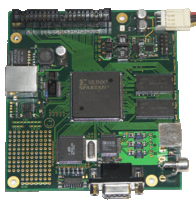 TELELUX projects
TELELUX Kft contacted me at the summer of 2000 and offered a development contract. In particular, the control electronics of an incadescent bulb based video scoreboard had to be modernised. The original control system was based on TTL chips and had dimensions similar to a medium size fridge. I had to replace that unit with up to date technology, which I did and managed to fit the new controller in a 60x100x200mm (2.4x4x8") box.
The unit receives an analogue video signal which it digitises. Then the digital signal is sent to the scoreboard itself using the original coaxial cable connection. Besides the video input, the unit also has a computer connection. The computer connection can be used to set parameters of the unit as well as to supply textual or graphical content that can be overlayed on the video image. The controller was in operation at stadion of the FTC (a Hungarian sport club), located at the Üllői Út, Budapest.

This is the front:




At that time, there were still a lot of through-hole components on the four layer board.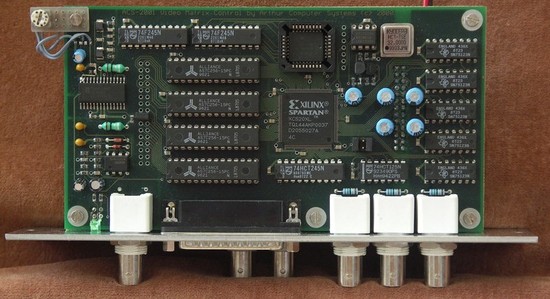 After that project TELELUX occasionally contacted me to solve hard to find faults with various scoreboard systems. In the summer of 2003 they offered a contracted to help them designing their new scoreboard. By winter of the same year they deployed scoreboards with my controller at Nyíradony and the iceskating rink of the UTE (a Hungarian sport club) on the Megyeri Út, Budapest. They gave me more and more development work and six months later even the display modules were my design. They then contracted me for the design and manufacturing of the control, interface and receiver circuits for the new scoreboards. The sport dependent part of the control software remained their responsibility, I have never been involved in that. My devices sit between the user's computer and the scoreboard itself. Later a larger controller was built, which can drive huge scoreboards and also provides fast video effects. That controller drives the flagship product of the company, the media cube, which operates in the Főnix sport centre in Debrecen. Also notable installations of the new controller are the giant video scoreborads of the swimming centre in Hódmezővásárhely and the Komjádi Béla swimming centre in Budapest, as well as the scoreboards of the stadium in Békéscsaba.
The larger controller from the outside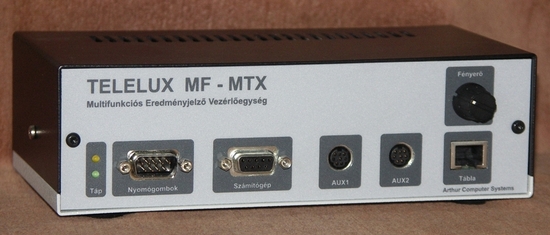 Through-hole only if it's not available in SMD...


My controllers drive more than 40 scoreboards today.

Two pictures of the board in Ikrény:

---
| | |
| --- | --- |
| Top | Last modified: 2017.12.05 |